How Bad Times Bring Out the Best in Us | Dr. Omar Suleiman at Sarajevo, Bosnia & Herzegovina
Jan 02, 2022
and the warmth and informality back there I told him I said you know he said I'll call you doctor I said no say brother he said but I have to live here they will be mad at me if I say that. but uh warm spirit allah bless all the volunteers the blessing to meet abraham alhamdulillah all the volunteers and everyone who organized this special event all of you for coming to the university i know this was a very short notice but for me sincerely , this is very personal. I grew up in the United States of America believing and this is not flowery language to start something off.

Honestly, I felt like I had two countries of origin: Palestine, Bosnia, and Subhanallah. This was something from my childhood. In fact, I am in the process of translating a book of my mother's poetry, may Hashem be sure Allah have mercy on her. She wrote about Bosnia frequently in her poetry as well as Palestine and we had the opportunity to meet Bosnian brothers and sisters at t. he united states alhamdulillah who arrived in the 1990s specifically and i always knew two countries of origin that one day i would want to visit one of them alhamdulillah allah has made it a possibility today to come to
bosnia
the other palestine i hope for his release to be able to visit that house too, inshallah, but being with all of you here today is a special, special, special pleasure for me, alhamdulillah, and it is the beautiful thought of an ummah that, even though we have difficulties expressing language that others can understand, some
times
you know people and i have been blessed to be on hajj many
times
and you can see in someone's face that they are your brother, they are your sister and sometimes the love that allah puts between us is even when we can't talk to each other another, which is very special because we read the same Quran because we pray in the same way because we love the same more than we love ourselves because we love our prophet salallahu the beautiful sa notions and values ​​of humanity that allah has placed within us mercy that we have for one another that is not a human phenomenon but a part of allah's mercy that we see each other with an eye of mercy with a lens of compassion and that is very special about this meeting alhamdulillah as it is about everything else and the fact that actually what brought me here is a kashmir tribunal in
bosnia
a palestinian coming to bosnia for a kashmir tribunal i think that says it all about unification and the potential for us to truly function as that one body that our prophet salallahu tells us true human body so thank you all for taking the time on short notice to be here as I speak tonight very politically today I am going to speak within the realm of teschia within the realm of spirituality and I think that we often separate those two worlds to the extreme, but if there is always room for our spiritual foundations to be refined so that we can renew our intentions to relieve allah subhanahu wa ta'ala and act in a way that is more loving and more beneficial to us and more pleasing to him, so the topic of my lecture good things or bad things good people there is a philosophical part to this a theological part to this, which is what often comes up when people say how come good things happen to bad people and good people get bad things happen that's not the point of my discussion tonight ok it's the question of evil the question of why do you know this person who is a tyrant this person who is bad but somehow has access somehow Somehow good things happen to him and then you have someone else living their life righteously and bad things happen to him how is that possible because ultimately the question we're not asking? it is what is good and what is bad we are not able to encompass with our limited faculties what is good and what is bad so I am going to start with this for a moment if you were to talk to an insect and ask the insect to explain the most complex political issue that is going on in the world right now you can unravel all this for me and explain all this to me the insect would be incapable and we would not be overwhelmed waiting for an explanation from an insect why because we understand that the insect has a limited understanding, okay, let's move to a human being, don't go up to a baby and ask him to explain a complex phenomenon because you can see even though you were once that baby You can see that that baby's understanding is limited by his childhood when we compare knowledge that we have and what we can encompass with our understanding in our faculties of the world around us and Allah, the discrepancy is much greater than we are with that child. or a human being even the smallest insect and that is something because of the way allah has given us signs signs around us so that we can understand our limitations you know allah has given us mention of allah his faculties he gave you hearing he gave you sight gave you the sense of understanding perception that you may know it we will show them signs in our furthest arrangements in the furthest arrays in the sky as well as in themselves until they come to the understanding that this is the truth as well that Allah has given us enough to understand that we really don't know much.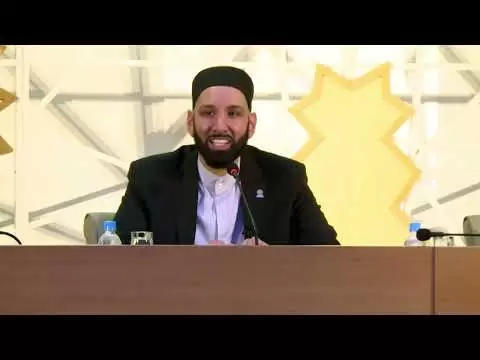 More Interesting Facts About,
how bad times bring out the best in us dr omar suleiman at sarajevo bosnia herzegovina...
If you were to compare the size of the Earth with the observable elements around the Earth, you would realize that we are really not that big how much we have seen that allows us to know subhanallah even the effect of light billions of years after a star that it allows us to constantly know our limitations, but it also allows us to know that, as much as you can see, there is much more that you cannot see and that is so that you realize your limitations your limitations someone asked me the question I said that this was not going to be most of my talk but like you said we talk a lot you know teachers and and and doctors a and especially not your messiah in bosnia only us from america talk too much um you know i was asked this question recently about a hadith of a mother and her son where the prophet said allah is more merciful to you allah is more merciful to you than a mother is with her child and someone said but a mother would never do this to her son I said do the right thing and what are you talking about because you are reading what a mother does to her son from the capacity of now Understanding at the mother level the nature of the child let me explain it to you this way how many of you have been babies before we are all children before?

Don't we remember when we were one year old? I don't remember when we were you know you might have some bits and pieces that went through your mind when you were two but when your mom took something from you when you were one you were trying to choke right I have a two year old so take this the look she gives me you know my my baby khadijah she has one we play barbies together i play barbies with her so she takes the she takes this little piece she broke it and i dont know she loves the barbie but then she rips the barbie's head off and rips off her arms sometimes so you have to get her a new barbie and she's trying to choke on this little piece and I take it out of her mouth and she gives me this look like I'm the tyrant greatest in the world i am the greatest vladim in the world how dare you i thought you loved me how dare you take this toy from me because that is the nature of her understanding now that khadija grows up inshaallah and sees another baby maybe her own, and The one that I can't think of right now, but another baby that she will be able to understand perfectly because she will be at the level of the one that she gives and the one that she receives at that point, not the one that is being taken from the one. from whom they take it is not that you have to come to terms with what is being taken and what is being given, it is the level of understanding of the person from whom it is being taken, they are actually giving it life because they are not allowing that child to choke to death, it's about his faculties, his understanding, and all that. this means that the discrepancy between the knowledge of allah and each and every one of us and the knowledge of a mother and her child is as big as any discrepancy you can calculate, wait you are going to give this to someone who sheds blood and he spreads corruption what did allah say allah didn't give them a long philosophical answer allah didn't tell the angels well in this generation this person will come and this prophet and this person allah said I know what you don't know and the angel submits to I know what you don't know and the mufasirin explain that they say that what allah was talking about is the goodness that will come out of this human enterprise, it is not just corruption from the loins of this adam salam people like isa alaihissalam jesus the peace be upon him muse from the loins of this creation but i don't have to explain all that to you right now i know what you don't know so i'm not going to list the justification or take this to the philosophical capacity of an angel in which you e you have to trust i know what you don't know now all this can be accepted by most people but then you know when you can't accept it when you wanted to marry someone and then something got in the way and you thought why is this happening or you got married and the person you thought you were going to marry is not the person you thought they were marrying be careful if you nod your head if your spouse is in the crowd but the person you ended up marrying was not the person you that you thought you would get married or you are diagnosed with a difficult health situation or your child is injured by something or war and destruction It happens that all these things happen to us on a personal level and it is difficult to see the perspective through your own pain.

You know the beauty of that part from the way that Allah does not expect from you. Allah does not wait on you when you are in pain. talk about the reason to talk about the reason why hard things happen to good people let me explain this patience when hardships strike it's not about what you say it's about what you don't say when the prophet sallallaahu alaihi wasallam, he was hit with the loss of his son ibrahim can i rationalize why allah's most beloved creation buried six of his seven children? It would have been better if they were five out of six instead of six out of seven or maybe just one child so the prophet could see that some could share that pain with those who go through that hardship of losing a child and you know what it looks like. insurmountable difficulty losing a child.
Can I go through likes and start listing if I use my human calculations and say that losing a child would have been enough to expand the prophet's empathy? Just before the prophet saw, by the way, right in front of him, could he say, oh, well, maybe Ibrahim would have grown up without a father, oh, maybe that's why, or maybe it would have been too much pressure, or maybe Maybe people would have killed him because he's the only one? life son of muhammad i can review them but it's useless it's absolutely useless i'm actually telling you not to do that ok it would be useless to sit there and list why this is happening to prophet saws and you know who did not list him the saws of the prophet, but when he held ibrahim, what did he do, what did he do when he held ibrahim? happening and go through a list of things so that people understand no you know what the prophet did when he hugged ibrahim he cried the heart feels sadness the eyes will cry and we are sad for the death of ibrahim but we are not going to say except what pleases Allah we're just going to say alhamdulillah right now so it's not like when the pain hits you you have to sit there and rehearse the lines and try to come up with the philosophy of why this might be better for you you just have to trust in the one in whose hands and whose understanding is what cannot be understood one of the scholars of the past said that the trust that the tawakkul that you have the trust that you have in allah is three levels there are three levels, I think he was the one who said that there are three levels of trust you can have in allah so the first is to trust allah the same way you trust an awakened agent you know if you trust someone your land or your property or you. tell someone to check the mail while you're gone or tell someone I'm going to pay you to go and do this transaction for me, you monitor that person properly and the moment that person acts in a way that you feel that you did not commission it, what do you do?
You call them back and admonish them well. You criticize them and probably also replace them if they continue to do what you don't want them to do. Okay, that's a trust level because when you hire an agent. you do it with a basic level of trust for that person but not real that's not real trust but it was enough to make them your wakeel and then you replace them so the second level is the way a kid trusts the mother now said children throw tantrums they cry and scream and scream when you take something from them you do it to protect them you do it to save them and subhanallah one of the really interesting things about the relationship between a mother and her child is even when the mother causes the chil d pain in the child's understanding the child seeks comfort in the same person as the mother it's okay so let me act this out for you without crying I'm not going to cry on stage it's okay but if your mom takes something from the child the child screams and says oh who the child tries to get mom to hug you so that the child puts out his arms and you take the water from me the child puts his own He extends his arms and looks for thecomfort from mom though all the kid can see is mom just caused me pain but still i know mom loves me in the back of my two year old brain somewhere in there my emotions my fit in my nature says to me no one loves me more than mom no one can comfort me like mom so it's not like i'm at the supermarket think of it this way you know if i'm shopping and then mom takes something from me i go to a stranger and he says hug me pick me up give me a relief give me candy now and I'll be your son don't do that go back to mom because there is a high level of trust there is a high level of trust that I trust you enough that even though I feel like you are causing me pain right now, I know that You can also give me comfort. that no one else can give me with allah azzawajal there is no escape or refuge from you except for you so beautiful there is no escape or refuge for you except back to you that is a high level of trust the mother to the child the third level is to trust in allah the way the dead body is turned in whatever direction the washing machine sees fit to purify and clean it and the dead body does not express any objection let the washing machine turn and wash and purify as the washing machine see fit and that is the highest level of tawakkul that you can have in allah subhanahu wa tarana until allah belongs to the
best
example to trust allah so much you trust allah so much now let's say you overcome that trust is the theological foundation to seek reward for your moment of pain is the spiritual active way of using your tawakkud the definition of being patient in the hope of reward from allah so it's not just patience because you're just you know once it's like if someone punch you or just take it it's not oh allah i'm hurt reward me oh allah i'm sore so give me from the afterlife oh allah i'm sore give me paradise that's all to seek reward from allah that in arabic a sabbath to be patient with hope and reward from allah ok so you are looking for a reward now with that pain you are channeling it immediately and you are saying allah i am not going to waste time asking why is this happening to me can someone tell me about a perfect woman who lived under a tyrant?

What was her name asia? The prophet saw mention of four women who honed their perfect imam faith. I mean it's an incredible testimonial. I mean, why do bad things happen to good people? The worst person happened to the
best
person. Ferrarn is her husband. I mean, think about how the best person is married to the worst person. The best person in the world at that time is a muslim because he is nabi allah. muse but the best non-profit is asiya at the right time but i mean the perfect woman and i got stuck with this kind of all the people allah father could have gone you know it led me to like , you know, sometimes I see a sister, usually it's the sisters who complain about their husbands. i don't understand husband but i like my husband doesn't pray you know here i am trying to become a better muslim my husband doesn't pray my husband does this my husband does that asia married to ever did asya asks yes allah why did i have to be in this situation?

Couldn't I have married another Egyptian man out of all of them? You decreed that he be my husband. humiliating men and women and he is my husband none of those speeches come with asea why because for one we could really say now if you lived at that time but could we really say now looking back and knowing who she is asia would have been asia without firaoun see the question we ask i know asia would have perfected her faith without the proof that we don't know we know now because the prophet told us that she is a woman of perfect faith and what is the only time we hear her voice in quran we hear her voice in quran is when she says while they are killing her it's unbelievable this is her voice in quran the only time we hear her speak is last moments they are murdering his wife murdering his wife in the worst way you know this that's why he's firaoun, that's why he's so evil you'd think you know asia was a great woman, she had shown good character towards him so even if now he knows he's a believer, like you're going to kill, she kills her in private, right, what does he do? let these strange men, these guards take her out in public, you know, the nature of asia's execution is horrible, horrible execution, the humiliation of all these people, your wife and then take a stone flogger and then take a stone and d drop it from the top to crush his own wife where are all the years of marriage and that's firaoun that's how hard the heart can get and that's when we hear his voice oh allah build for me with you a house in the paradise that is erti build for me with you a house in paradise by the way he says he noticed that before she asked jannah asked allah rabbi and baitan what it means to replace firaoun with you replace that palace with the palace in jannah is the last ertisap replace firaoun with allah indeck no longer i am no longer enda i want to be endec i know i am no longer with him i want to be with you and then they no longer took me out of my palace give me a bait and jamna give me a palace in e paradise before the stone hit asia's body she already saw her place in jannah she started laughing and allah took her soul before the stone hit her body it is deep now by the way if you live in asia world and there are cameras and the clip is taken circulated worldwide on twitter and wherever the execution of pharaoh's wife in the 21st century might cause you a crisis of faith how could that happen to such a good woman where was allah why didn't this happen why didn't that happen?

How did this happen? How did that happen? Because there's no way for you to know that Allah took his soul before the stone touched her flesh and gave him her palace in Jannah, we know because we're not reading Twitter, we're reading. Quran seriously you have an ayah from the Quran not a tweet you have the words of the prophet saws depicting the incident. It is not a video, not even the most perfect video. I'm not even talking about a fake video. The most perfect video could not have been. to lend you the details that make that story a good story now now you listen to that story and you say masha'allah you praise allah and you praise the makkah the station of but your eyes in perfect vision would have betrayed you you would not have been able to get it but the question is do you think asia in her palace in jannah says yes allah why did i marry firaoun? do you think she cares? people of paradise may allah make us be among them allah is pleased with them and they are pleased with allah it is not just that allah is pleased with them they are pleased with allah they are saying yes allah what else can there be allah says are you pleased what is left you did not get us into paradise you lit up our faces you gave us all this what is left and allah keeps adding more and more and more and more and more and more and more people of paradise are you pleased yes we are pleased ok here's more the point is that your brothers and sisters part of the test of this world is actually the greatest of its tests is the uncertainty of everything you are at work constantly one thing after another and the nature of this life by the way is when you feel like if you had caught your breath the next ordeal hits you and again and again and again and again and then you breathe and then another one comes because when you're on kebab it's like you know a person turns right in the place where you are. keplet but the point is that you can be the person who rolls downhill or you can be the body that trusts in its washing machine let allah take control of your affairs and seek the good of allah i want to conclude with two thoughts insha'allah in this regard one of them is on an individual level, as you strive to understand that it is much easier to pass these concepts on to someone else than to practice them when you are in the middle of it, allah knows you can always comfort someone else and say you know. in a matter of difficulty comes ease don't worry this will make you feel better you'll be fine i promise you'll remind people of the silver lining they're not seeing it's easier to do that for someone else but you know when you're in pain sometimes those your faculties close the person in front of you speaking your ears you can't hear them right now but the thing is allah gave you these first and foremost means to know allah listen to the quran listen to the words of your prophet sallallaahu alaihi wasallam let that be the input when you're in those moments where it's very, very hard to figure out the ultimate in this regard is that even for communities, the bad things, the good people, the hard times make us a different kind of community.

I want you to imagine if the prophet salallahu and the companions never had to do hijra medina it would never have been i want you to imagine an islam without medina you can't imagine it you can't think about it what if it never happened we would never learn the lessons we are still learning today the trench you know, subhanallah as a community, when you go through a hard time together, build something between you, right? Think of some of your closest friends in the world who will be people who went through something very difficult with you in life, right, you feel like they were with you through a very difficult time and they become the best of your friends.

Can you imagine the nature of the relationship between Prophet Saisom and his companions who were together in the khandak? in the trenches together facing death facing the greatest uncertainty the greatest uncertainty because khandak very realistically looked like the end of medina the end of islam the end of the prophet they saw some and their companions but they came out of it they not only built the trench they ended up building a world we still benefit from today a vision a mission a message and the stories that came out of the hamduck would not have been salman al-pharasi without the trenches because the trench was his idea salman would never have heard from the mouth of the prophet sierras salman it is one of me it is one of us it is my family all of that would have been lost now when you were in the trenches it would have been very difficult to contemplate that future reality but now we look back and say alhamdulillah for the alhamdulillah for the troubled times of the prophet saw some in your campaign we don't like it we hate to hear the pain our prophet saw you have faced o, but we benefit from the lessons of the community dra of building the idea of ​​resilience lived by the prophet saisama and his companions what if everyone accepted the prophet salla and safa he stood up in safa called them and they said you are assad we all believe in you mecca became muslim immediately gone medina gone the lessons of trials and resilience the people the brilliance the wisdom the sincerity everything we gain over the next two decades that 1400 years later it still benefits us it would not we have been there so we say alhamdulillah alhamdulillah for the hard times alhamdulillah for the eastern times alhamdulillah through the hard times alhamdulillah through the quiet times that is always let allah wash your soul in the same way that the dead body is washed by the one who does it too may allah protect you all here in bosnia protect all n ur brothers and sisters all over the world may allah protect you as individuals may allah protect you may the pain you have faced be nothing more than a paradise in the hereafter for you small trials and major trials may allah allow you to always be nourished with faith with resilience with knowledge of him with constancy may allah subhanahu wa ta'ala make us grow in our love for him and our longing for him and may allah allow all of us, while we are gathered here, to be gathered around our beloved prophet, sallallahu alaihi wasallam in jannah thank you very much for your inspiring papers may god bless you exactly and give you Best of all but anyway we have some questions which came to us through the area.

Meanwhile, I asked the audience if they had any questions to prepare them. There is a microphone available here and please share. share them with us with us stars stars on it the question we get via zoom is basically how do we deal with a difficulty when we have a suburb but start to lack motivation to move forward and find solutions how do we do it if i understand the question do you know more saber a sometimes you are sublime during difficulties you are patient but you have lost motivation that is a very very significant part and it is very real it is very human and sometimes by the way pausing a little is not a bad thing sometimes pausing a little is not a bad thing you know not anything that doesn't include moving is bad i mean sometimes it's ok to take the time to do dua to disconnect a bit to use the moment to heal that's ok sometimes however you want to put a limit on how long it's going to last because, otherwise you will stop there and really get stuck and not be able to move and therefore sometimes going forward finding your way. the motivation to move fo reward is in doing the things you used to do until the motivation comes back i give this example to people tosometimes you know when people are just religious practicing uh spiritual in spurts like you know high times low times we all have ups and downs but like some people's high is here and some people's low is here right uh imagine if people were just to work when they felt like it I know we're in a pandemic now so it's like, you can't zoom with your magnet you know you only went to work you only earned when you felt like it's okay most people would be broke , they would be broke because the idea is that you go to work even some days when you have no motivation because you have to win and the way you do it best is by reminding yourself why they are winning and then chasing higher career opportunities trying to move up but there will be days when the consistency of going to work imagine if you only went to school classes when you felt like it what would happen to them like students? in trouble right now if you are the teacher they will always come but it is difficult sometimes you will feel a lack of motivation but the idea is that you go and do what you do even if it is at a minimum level although that day you are not going to do much but still you're going to class you're still going to take your notes you're still going to do at least the minimum of preparation to not fail the class not fail the class when it comes to our spirituality and motivation sometimes motivation numbs for a moment you know when you get hit if you get hit in the same place multiple times you get numb so sometimes there's a numbness but you keep doing the bare minimum until the feeling comes back and you do it by reminding yourself again of the importance of doing it even when you don't have the motivation like this like the fact that at some point the feeling comes back as human beings that allah has created for us in very very special ways subhanallah right but w We have immense potential to recover us to be resilient and grow as human beings, Allah has given us that sometimes you are in the middle of a test and you think that there is no way I am going to overcome this.

I will never survive this. try and you do it not because of who you are but because of who created you the way you are so that would be my long answer to a short question thank you very much more questions from the crowd please we have the mic ready. there thank you so much first i really want to thank you for your great speech mike it's uh let's say if you're two and our mom or whoever is taking that stuff that's dangerous to us how should we know uh if that's really why it's getting away from us and how can we be sure that that's something we're not supposed to chase or is it something we should say ok that's not good for us we should let it go or we should say it's ok per month for us but it's a test and he should keep fighting, how can we tell the difference between those two?

I'm always very hesitant to answer those questions because the questioner means something and I say I don't know how specific and how but I appreciate the question so I'll give some principles on how to approach maybe in a few different scenarios from what I understand from what what you're talking about is at what point do you move on from something mundane right and just say it's allah's qatar instead of keeping on and uh chasing it well that's the right question for the most part um you know the value of istikhara and i know um a Sometimes you pray and people say that I am going to wait for a dream it is not the dream the istikhara is actually an inaudible imam he expresses it very beautifully, he says that you do istishara of people who are looking for people, you meet people who are knowledgeable people who are wise people who have good wishes, you seek their advice because sometimes when you are in the middle of or If it is something that is very difficult for you to keep a logic as if you really want something bad and you are really You've been getting emotionally attached to something, whether it's an opportunity or whatever, and you're losing the best of you. so you have people around you who know you well enough to tell you that it's okay at this point you should probably move on, it's probably in your best interest. there and they will see how you follow their advice ie basically istikhara is based on istishara you are seeking advice from allah so oh allah if this is good for me then make it happen for me if it is bad for me , take it off me now you are moving it is basically a dua we are asking a lot to facilitate you the best direction now when you do a stihara you don't give up this tishara you are still letting people advise you seeking advice from people and and trying to m make your best decision and i think You know there's no perfect answer for this in the middle of this, but usually when there's roadblocks to something and the people who love you the most say you better move on, then it's probably for the best to move on, uh, you know, and that's something where, again, I've seen people give up on things too quickly and I've seen more often sticking to something for too long, so it's using your best judgment and Seeking Allah's help throughout the process.

Thanks for the question. Thanks. do for fellow brothers and i would say and sisters and in palestine and kashmir we need some practical steps and advice thanks for your advice so firstly i dont think people in bosnia maybe understand how much they mean to the rest of us when when when the bosnian people express their solidarity with their brothers and sisters in palestine it means something you know when you see the solidarity being expressed uh as people in bosnia i'm sure you can relate to what it has meant to know that the muslim world and the people all over the world had their hearts with you and listen to the khutbas here to see the protest to see the defense in different parts of the world of other people when they are going through something the most powerful form of solidarity is when it comes from a people who understands what it is to be vulnerable and oppressed.

It's the most powerful form of solidarity and it provokes and uplifts the human spirit in ways that nothing you really can't understand and so you speak. to the people of gaza, for example, i say that the people of gaza will say several times that we were nourished by the solidarity that we were seeing all over the world, the bombs were falling and we knew that the world was with us we saw their protests we heard their voice we knew they were with us all the way gave us that extra level of motivation sometimes to keep going and so the expression of solidarity from a people who have experienced that kind of oppression of other people is the most powerful form of expression and therefore So I want to keep it to a minimum, first of all, that that could be as irrelevant or as small as your activism on social media and your protests in the streets and uh, your writing articles in the media here to keep the issues alive. of these places, right, he graduates, he goes to the next level, to the next level, to the next level and I think, uh, in any situation, insha'allah, when you can organize that pressure. and in a country like this, alhamdulillah, where you will have leadership that will validate that solidarity inshallah so that your leaders, even when they know about the bosnian problem itself and t Things that are happening locally rise to the top of priority that Palestine always remains a priority that Kashmir remains a priority that all these things remain a priority insha'allah sir he will be angry he will say why take me off stage what did I do to you you can let it come , okay, he can come and see, he's back with mom, possibly, he also has a question, yes, maybe he has a question that you know, you never know and children. know how to pose bad questions for yours, right? ok besides what is his name muhammad allah bless him and protect him and make him the coldness of your eyes and make him from the righteous ok any other questions from the crowd yes ok let us answer a few more questions, Thank you, first of all I would like to say that I feel truly privileged and honored to have seen you here today. and alhamdulillah i ho pe we have as many people like you as we can in this world well my question is on topic um i'm not a confrontational kind of person so i really try to avoid it as much as i can but if you are in a situation that you know essentially results in conflict how long do you wait until you actually engage in that conflict and therefore you don't know it's a long time after you've done your duas and it's the heart and all that? and you know you want to get rid of that burden that situation is causing you ok thank you may Allah bless you and see you and all of us through whatever inshallah in any of these situations it is often the best way to do it and there is no good way to navigate or there is no perfect way to navigate this kind of thing but when we procrastinate when something is unavoidable then its better to go ahead and speed up the conflict but when it you have a clear mind and heart and can approach it in the most productive way raise what you need to be educated and try to try to know that usually the way out of a big conflict is a small conflict just before it becomes a big one conflict and thus take it to the healthiest moments and then have the healthiest forms. addressing it at such times is usually the best way to procrastinate when it becomes much more difficult for us, but that is very hard to do, some people are very conflict averse, they are just conflict averse and therefore it ends forever. coming to them because they procrastinate and then eventually I'm one of those people so don't feel bad you're saying a lot of us have that problem it's very common for people it's hard to have those conversations before it's over turn into very difficult conversations so that's the best way and seek help from allah and may allah make whatever it takes for you and all of us easy in that regard thank you huh usthazamer if i may possibly add during my mma studies in damansara the international institute of islamic thought in kuala lumpur i learned one at least it reminded me of a uranium professor saying that for centuries we have had institute and principle of sura of const you know how to talk to each other and consult us in the quran, without However, that was his opinion and I strongly agree with him that for the last 14 centuries we have failed to develop practical mechanisms of shura or, in other words, ras, to say that you know how to look from the other. conflict resolution perspective in that sense I think we need to invest a lot humbly I would tell them that they know science yes practical sciences helping us to develop practical and concrete steps and mechanisms to make shura making consultations uh to resolve conflicts and in that I feel that I think we should not distance ourselves and escape from, for example, the help of social scientists, social sciences, psychology and its practice. practical knowledge ical uh thank you for your question and story for no not very quickly what is there you know at my university now there is a masters program in conflict resolution and i think that is a science it really is a science and so uh maybe the university can introduce a program in conflict resolution if it's not there already, inshallah, I mean it's there, but definitely speaking in general about how we Muslims look at certain issues, so we face challenges very often.

In summary, yeah, you know, with that without systematic solutions, uh, systematic, okay, uh, looks like we have a few more questions here. I don't know how much time we should spend on questions, possibly, we'll take one more question and and so we have to wrap up today's session and that question would be if this sister has raised her hand, okay, system, okay, this is the place, no problem i dont know ok i just wanted to say i have a need to tell you that recently i was literally like doing duas do a lot send me someone or something that will remind me to have trust in allah and especially your first part of the talk when you were talking about losing a child and everything so a few months ago i had a miscarriage and this really touched me so i really wanted to say thank you and tell you that you literally are what you are you are the answer to my gods and i am so grateful to have you here I love you thank you thank you sister for your question thank you all for attending today's session let that child meet you at the doors of the agenda and hold your hand in whichever whatever jannah door you want i mean for the end it's kind of a bosnian custom okay and the way we do it here when we have uh are you going to throw me something?

I'm sorry, no, no, no, no, the way you're introducing this client is, um, we're on the same page. often ok we come from the same school school well well well when we had with us a good good servant of God like you a man we are proud of we usually ask you to read to us and we keep saying yes can I kindly ask you to read for all muslims, all good people and we feel loved?
If you have any copyright issue, please Contact