Will Key Union's Non-Endorsement Help Sanders Or Biden In Nevada? | The 11th Hour | MSNBC
Feb 18, 2020
Victoria, what are you going to be watching when the vote comes around on Saturday? If we are ever sure of the Saturday vote in Nevada, there are so many unknowns when I look at Nevada to begin with, the polls are infamous given the nature of Nevada's population. it tends to be transient and the free
hour
s that people have we also see the fact that caucuses, by their very nature, are not as predictable as primaries as traditional electoral contests and lastly, for me, Braden, and maybe the biggest problem is the fact that they don't have the core strength of
union
endorsement
, so in 2008 we had very strong
union
endorsement
from the culinary union that has the largest membership in Las Vegas and in Nevada as a whole endorsing the president Obama in 2012 did not support and we saw a lot of frenzy about whether it is Sanders or Clinton who has that support and to this day we really do not know, for example, who were the Latinos that make up the majority of the Union today, again we see a lack of f a culinary union endorsement so this makes the question of who is going to come out on top even bigger we see in the polls that
sanders
is doing well so if i am a gambling woman I
will
say Sanders has the upper hand but the real question mark is where
will
Biden land so I think for me that is the bigger question and also understanding that the Latino population that Sanders has been getting a lot of support from is young and latinos. traditionally they are the ones with the lowest participation rates, we have seen them increase in the last elections, but this is once again another unknown if they are going to walk the walk of fame I am going to participate for this person Tamara, the teacher raised a big question there and that is with the lack of endorsement from the Culinary Workers Union, the men and women who make Las Vegas work and their sharp criticism of Bernie, do they open Elaine up for anyone?

Does the lack of support mean good news for? any of the democrats in this race well, somewhat counterintuitively, I would say that was actually good news for Bernie Sanders that they didn't endorse because even though they were pretty direct in their criticism of Medicare for all and that points so much to Sanders like Warren, to a lesser extent, the fact is that they didn't ultimately go out and endorse someone that they didn't elect anyone out of, you know, I'm thinking if this race is now Bernie Sanders Lane and all the rest of it. They and Lane did not pick anyone out of all the other Lanes and therefore there is no certainty on the part of the culinary union who they would want their members to support.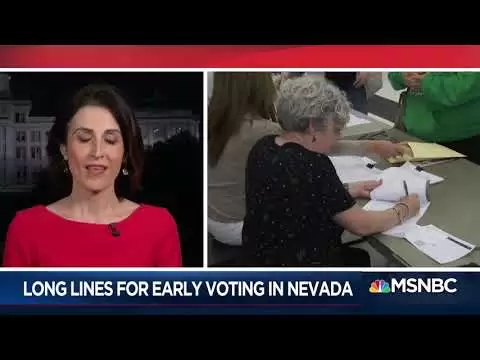 More Interesting Facts About,
will key union s non endorsement help sanders or biden in nevada the 11th hour msnbc...
I went to an early caucus location at the culinary union headquarters. Interestingly, most of the people who attended the first caucuses were not Union members, but it was just a convenient place for them, but clearly the Union is either facilitating the vote or not. ing places but caucus sites at various casinos on the strip making sure your membership can caucus even though it's pretty inconvenient and comes in the middle of the workday for many people on a Saturday but also this question about participation is what if polling may be accurate in this state is further ruled out because caucus attendees are likely already in the first two days of early caucuses. we built this as, in effect, the debut of minority voting in the 2020 cycle.

If you look at Nevada, where we have thirty percent of the Latino population, they make up 20 percent of the electorate, this is much more of a mirror of who America is. the African American population is still relatively low compared to the national average, but you do see the preference of Latinos coming out and let me just say that Latinos are not a monolith, there is diversity within the Lat community ino ideologically speaking in terms of partisanship, but at least we're making the voice of this segment of the population heard at this point, hi, I'm Chris Hayes from MSNBC, thanks for watching MSNBC on YouTube if you'd like to stay up to date. with the videos we're posting you can click subscribe right below me or click this list for lots of other great videos

If you have any copyright issue, please Contact