Martin Lewis Answers Your Cost Of Living Questions | Good Morning Britain
Apr 22, 2023
foreign wednesday and so all
your
energy broadband
cost
of
living
questions
are going to answer some of them now because that's why
martin
is here so
martin
let's launch it Vicky on Instagram wants to know if the 66lb power assist stopped. This is the amount of money the government gave on a monthly basis to subsidize People's Energy bills, um, an email was sent, people have been contacted, no, I mean, this was the winter
cost
of
living
payment for 400 pounds, closing out the title, ended in March, so starting this month. you won't get that £66 reduction in power bills, which means a real increase in terms and of course disproportionately affects those who are lower users. typical bills will mostly cover the £66 loss but not quite but for those with lower bills it won't touch that so yeah we mentioned that earlier when talking about cost of living the £66 is gone and you should expect that. you're going to pay more so the last payment was in march now we're in april i'm referring to the fact that vicky has asked that people feel unprepared for that i know we have a budget and statements in the house of los Common and, but people need 66 pounds it is a large amount of money that later has to be covered, let's remember that a 20 increase in the energy tariff that people make to pay for was also planned in April, now I participated in the campaign to stop that for what could have been worse not that that helps anyone right now i mean there has been communication but these things are hard to filter to people are hard to filter to people Louise on Instagram you want to know when people with oil central heating will get their £200 so this is payment for alternative fuels now you should have gotten it in February and this was paid through the power companies to people even though you you don't pay for electricity for alternative fuel so I often said and in discussions about this saying the problem is what was it if you didn't know them people have alternative fuel so an alternative scheme was put in place mainly for those who they were off the grid they don't have electricity payments but also for those who missed it which looks like Louise is one of those who missed it so what you can do now is go to gov dot UK and you can To apply for
your
£200 you will need to provide receipts showing you purchased alternative fuel and actually those receipts originally had to be after September 2022.

We have been in touch. people who buy uh for larger and wholesale didn't have the receipts and the date has now moved to june 2022 so if you got turned down because you didn't have the receipts since september but you have since june you can go to that portal , so you need to go to gov dot UK If you pay for alternative fuel and need to apply for your £200, do you know how many people have been lost? We don't have the data. on it because people are still filtering it and making requests ok louise hope that helps huh steve on facebook steve is running out of his gas and electric landline contract and asking if he should fix his one year offer , okay, so SSC is part of OVO and OVO has this one year old solution that is also branded as SSC solution.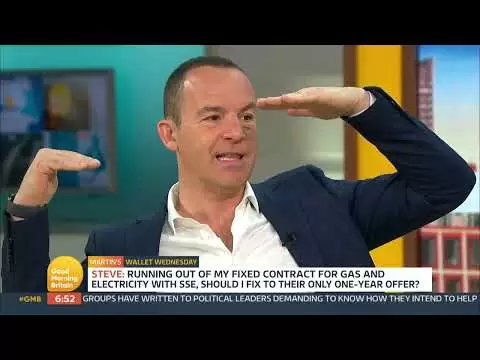 More Interesting Facts About,
martin lewis answers your cost of living questions good morning britain...
OVO customers can get it, so this solution is about nine percent cheaper than current prices, but in July and those are peak prices in July, we expect prices to go down 18% and go back up a little in October, but still only trivially. maybe they're 16 cheaper than they are right now and we don't know in January so if the prediction is correct and they are predictions it's Crystal Ball i don't know if they are correct then over the next year you would pay more on this solution than a year than you would if you stuck to the price cap, but what gives you the price gap is the price certainty that you know exactly what you're going to pay, so if you really want budget certainty, this solution it has some advantages the exit penalties aren't too bad so you pay £150 dual fuel gas and electric to leave it if you wanted to leave it if things got a lot cheaper and you wanted to get away so overall in Right now I think it's not for most people because the predictions look like things will be cheaper than that anyway, but if you're risk averse and go I just want to know if it's not going to go as high as it could climb is 20 above where we are now.

By the way, because I won't bother explaining why that's the most you can go up and then you might want to go for price certainty, but I'd probably say it's not for most, so the key, um, figure in that was we are waiting for prices to go down so you have another couple months where we are right now yeah here's my chart and then prices will go down around 18 then go up again in july no I really don't know from January and this fixed rate is between where we are right now and where it's going to go but remember you have a year in this solution and it will come down in July now that we're pretty sure they'll come down substantially in July less sure about the price in October and then the crystal ball is very confusing in january so there is a risk assessment there is no answer it is a risk assessment if you really want certainty look for the solution otherwise stick with the price cut because current predictions are it will be cheaper and laura at Facebook wants to know if energy companies will reach out to customers in July with new solutions or if customers need to reach out to the companies, well I think most of the solutions we're going to implement.

She'll see, there will be corrections of existing customers because this is something called the market stabilization charge, which means that if a new customer changes, the new company has to pay the old company effective compensation for losing the customer. with that it's effectively anti-competitive so it's going to be the existing customer that fixes the big problem from my perspective but you'll see it's not a selfish problem companies don't have to post their rates and it's done regionally. when they post these rates we usually have to get them from customers telling us what's on offer so i can't do the evaluation like i would like to do for people they're going to turn out alright we expect more arrangements to come out but the wholesale rates underlyings have not gone up much not in a way that prices, you know, prices will continue to go down, but there is a percentage or so of what they were and we have seen some companies that we thought we would offer corrections again.
I think we'll have more fixes in July, but I'm not so sure we'll see more fixes than when I was on the show last time a few months ago, but Laura's question is about where, how well, how do we tell you if they're offering a solution, right? They will get in touch and tell you when she will. for that but it's unlikely to exist I mean if there are new customer deals and they're
good
well I'll be here to tell you yeah I promise even if I'm not in a wallet Wednesday I'm going to call it the product and say that I want to be around tomorrow to tell people about this please, but Martin's Monday, yes, yes, and excellent Tuesday, whatever. deals i would expect ok um Laurie on Twitter wants to know I'm with talk talk Broadband only been with them for a couple of years now Laurie was paying £22 but it went up to £24 in no time and has now gone up to £27 41. hasn't been correspondence Laurie says and Laura is disabled on benefits and 66 in June let me figure this out yeah look everyone's broadband prices are up 14 or 14 percent not all but most people than in April so everyone will see that hit now if you are on a contract there is not much you can do if you are not on a contract you can change now you are disabled and on benefits you would normally be entitled to a social fee which will cost you £10-20 a month and it is a fee cheap in the long run for four million people, almost every company offers them to talk, talk, isn't it?

Instead, it offers free broadband to job seekers. one of the few companies that don't have a social fee if you don't have a contract add the switch you know if it's BT or sky or now or many others and find out what your social change to your social fees most comparison sites no No list the social rates, there's a couple that include social rates and you can go and find your provider information and what those social rates are, but there are four million people eligible for long term social rates. Cheap broadband only four percent. of those four million are receiving them right now, so if you have universal credit or, in some cases, other forms of benefits, check to see if you're eligible for a social rate and how it compares to what you're paying.

Um, you can get a special deal, Lori, thank you all so much for reaching out. What can they do about it? We know that you must be paid minimum wage if you work for someone else if you are not self-employed. Martin has all the details on what you should be paid. Martin, okay, let's start with the minimum wage rates. Now these are all up to around 9.7 April first you can see the different rates there they're age related the main one at the bottom which they call the national living wage a term I won't use because I'm a sponsor of the Living Wage Foundation, which is an adequate living wage and George Osborne stole it in his budget years ago.

This is just minimum wage by any other name to me, it's 10 42 an hour, but different rates apply to different ages. It is important to understand that this is not just for people who are paid by the hour, this applies even if you are on salary, for example if you work 35 hours a week and you are 23 then you should earn a minimum of 1964 pounds a year other fees but people can still be underpaid yes there are eight different ways. I'm going to try to go through them now as quickly as I can, so let's take a look at the first and largest category if it's part of your job. you have to pay for your uniform or tools or safety clothing or proper clothing and the cost of that once your wages are deducted puts you below minimum wage they are underpaying you and are not allowed to do that similar you should get paid for all your work time including overtime, training, travel time, no commuting, wait time, open time, let's say you're doing a security check and you don't get paid, that's at the start of your shift they don't pay you. only get paid once your hours start if you factored in those hours and that would put you below minimum wage which would happen for anyone who is only on the lower end of minimum wage then you are getting paid less the following than What to keep in mind is that your minimum wage must increase every April in the first full pay cycle, which means the first pay amount that comes after April, so if you started getting paid from April 2 to April 2 May then you would get the money for that and your salary should go up when you turn 18, 21 and 23 because there are different rates a major one below for anyone who gets accommodation as part of their job they are allowed to reduce what they get for below minimum wage, but only for a maximum of £6370 a week and that includes any accommodation costs for gas, electricity, furniture and laundry you get as part of your accommodation.

Four more to go. Let's analyze them below. For those who receive tips or overtime, you need to be aware. minimum wage that doesn't count toward minimum wage, your basic standard minimum wage should be part of that and if you have a higher overtime rate and they try to use that as a justification for why they can give you a lower standard rate, they don't it's like that work the standard rate you get should be minimum wage next up if you're only on commission and you're not getting minimum wage employers should top you up if you don't have set hours they should work it out through a fair estimate of how much time it would take you to do the job getting to the end the apprentice rate you need to be a real apprentice and that means you have to have structured training as part of what you do if you are not an apprentice you need to be on the rate for your age and you might get underpaid if you're not and finally don't think these are all for small companies trying to play fast and loose in the past we've had the name and embarrassments of John Lewis The Sheffield United body shop and Lots of other big companies have gotten it wrong so don't assume if you're on the min page working for a big company that they are paying you the right amount go through this checklist it's ok as the government previously named and shamed those companies for paying less to the staff that receives the minimum wage, since theyMartin mentioned John Lewis The Body Shop among them in 2021 John Lewis said the problem arose because of the way he pays variable wage staff and has fixed it adding that his average hourly minimum wage has never been below the minimum wage Sheffield United at the body shop both said all workers involved were reimbursed and they had put measures in place to make sure it didn't happen again well we're joined by employment lawyer Amanda Lennon what do you think of that Amanda?

Well I think with big companies it's especially shocking that they would do anything that would mean workers not being paid at least minimum wage after having worked with a lot of big companies in HR I can see how it happens with big companies companies, it's not the ignorance you may have with small businesses, but that they don't have enough checks and balances in their payroll systems to signal when someone might be about to hit the minimum wage threshold, for example, as Martin says when you deduct costs for uniforms, costs for travel, um also inadvertently when employees work shifts they might have to go between different sites so I've worked with companies that employ maintenance engineers who are contracted to work at different sites in a city and they don't get paid for travel between those sites and that's again contrary to minimum wage, you don't have to be paid for travel, but if that time was built in and didn't take you under wage minimum then you are breaking the regulations now if people if people are not getting minimum wage there is a calculator on the government website that says they can calculate if you are getting a fair minimum wage and i could talk to acas for help but what do people do if they've seen that checklist and say it's me because a lot of people are afraid to talk to their employers about it, they're worried they'll lose their job if they do and I would always encourage you to talk to your manager line if you have that kind of relationship, if you don't then there are other options, the first is that you can complain to the government, you can fill out a link online hmrc is responsible for obtaining information on minimum wage legislation and taking action so you can go to that website and fill out the form there.

You can also contact the conciliation service who will help you file a claim and alternatively, but not in addition, you can issue an employment court claim um for the amount you should have been paid sounds like um this is all a big effort on behalf of the person the employee is how easy it is to challenge your employer on this depends on the culture um in my experience and the relationship you have with your bosses so um yes I would say yes you are in a union environment and there is a recognized union that you operate within the company so they are a very
good
source of support so you should go see them, you might know colleagues who are in a similar situation, it is worth talking to them and maybe making a joint complaint as per company grievance policy but it can be difficult for the people you are entitled to when you complain to hmrc make it anonymous so the employer doesn't know who you are which will work for a lot of people you have 10 o 20 employees, clearly, if it's the only employee, then they'll know who the whistleblower is and there's no way to do it anonymously, which is a problem some people face, especially for small businesses and listen, we know small businesses right now they are hurting too and with a nine percent increase it is increasing costs at a time when many small businesses are struggling but minimal Wage is absolutely a legal right and employers of all sizes and in all sectors should pay that off, um uh, Amanda Lennon, thank you very much, actually a very helpful piece of advice.

I would be very interested to hear if I have gone through that list of eight. if any of you watching the show now go I don't think you'll do that with me yeah so let us know we'll keep it anonymous let us know if you'd like to make it anonymous we won't. Please do not mention your name, but we would like to hear your examples if you have been paid less than minimum wage. Yes, really very useful information. Okay, let's take a look at some of your
questions
this
morning
on other topics. Now he talked about the minimum wage.

Dave Hawker has been in touch to say care workers don't get paid to walk between clients and that's below minimum wage nine times out of 10 travel time between clients is a real sore point. and a pain point for care workers in particular for many people. that's what it comes down to, let me explain what travel time, how it works with minimum wage, you don't have to pay for your travel time, but that travel time should be factored into your total employment time, let me give you an example, come on let's say you work eight hours a day and you have an hour of commute time by the way commuting to your regular place of work doesn't count this is between clients between clients so you have eight hours a day that you get paid for and one hour travel time if you divide what you get for the eight hours by nine and that's less than the minimum wage, you're being underpaid if you divide what you get for the eight hours by nine and nine and that's equal to the minimum wage or plus so that's legal it may not be fair but it's legal so it's about what you get on average when you factor in all the time you have to do for your job and if you will for example those eight hours they are all minimum wage and you had an hour of unpaid travel time then by definition you are being underpaid yes you need to look at the government calculator you can call Lakecast for help you can file a complaint and if you don't want to file a complaint in person, you can do it anonymously on hmrc Yes, add up all that travel time between your patients or clients, add it on top of the hours you're doing. that on social media so you can go back and see there's a lot of other ways if you're on minimum wage you might be underpaid it's not half a million people on minimum wage and you need to have a look at that so let's share it with the producers, can we put it on social media please, yes we will. that you have had since you were a child and it has been open for over 18 years if you close this account it will affect your credit rating which is currently good well you don't have a credit rating each company rates you individually but evidence of longevity see if a bank account tends to be good for your credit what i would say is it is very trivial to change banks and the benefits are good so go for it but if you are within three months of a major credit application like a new mortgage is a bad time, right?

Don't do it in the three months leading up to a large balance transfer, but otherwise go ahead and do it. Let me explain who is currently paying for the change, so you have HSBC. you have just thrown £200 free you also have a regular savings account linked to five per cent you have NatWest and RBS reward sister banks who also give you £200 free for the changes you need to use their exchange services there will be a credit check for this and checking the eligibility terms there are several different ones i have time to go through them all it also gives you back three pounds a month what it actually does is charge you two pounds a month and it gives you five pounds a month so that's a net three pounds a month £36 a year as long as you use their app and have enough direct debits and the regular linked six per cent saver and then first you have direct the other one that pays pays just under £175 but has risen to the top or nearly at the top of every customer service survey ever conducted, scored a 90 excellent on the last one, has a linked regular save of seven per cent and a zero per cent overdraft up to £250, so that if service is what counts for you that's probably the winner if money is what counts for you it's one of the other two in the meantime we have a question from bill about changing banks good
morning
martin uh i followed your advice in past and james banks a couple of times now but i wonder if there is any limit to how many times you can actually do this ok we have some regular bank accounts that are in my office and my team that has made over a thousand pounds doing this I could say I have changed a thousand times, no, no, they made that they earned more than a big change and they have to really do what you do is set up a mule account, you set up an account that you don't use that you just you meet the criteria and use it to move if we're getting fancy this will affect your credit score not just a little and it won't be a problem for people who don't apply for credit if you've changed too often and too regularly but if you're applying credit can be a problem, why should it affect your credit score?

Because evidence of longevity is important and regular change and credit availability in an overdraft, all the facts, it's just one of those things that happens. It's not too big, but the other thing to keep in mind is that you have to be a new customer of the bank, so it normally takes two or three years after you leave the bank until you can be switched back to the same bank and be counted. like a new customer again but i mean absolutely get in touch quickly we have the 15 minutes left on the show if you changed how many changed past yes most of the time in the last five or six years let me know I'm going to check those social networks
If you have any copyright issue, please Contact