Octonauts & The Blue Fin Tuna-Series 5 Episode 1-ENGLISH FULL EPISODE-NEW
Sep 13, 2023
to your stations explore rescue protect The Octonauts and the
blue
fin
tuna
all good Dashie, that radar shows something heading towards the Octopod something big, big and moving fast oh Octonauts race 4 impact Fins Liberty looks like we'll have to finish building this nuke later Hey, but I'm telling you, buddy, it's never going to be faster in the guppy hitting five four three two one and Captain, look, it's not one big thing coming at us, it's a lot of medium sized things coming at us, it's a bank. of Atlantic.
blue
fin
tuna
Octonauts the past dangers it's just a school of tuna policeman B doesn't need a grappling hook are you two okay okay Captain uh no worse for where the Octonauts are all okay yes Captain just a little dizzy fascinating must be the tuna head to the Mediterranean Sea to spawn the Mediterranean but that is on the other side of the Atlantic Ocean in fact it is the bluefin tuna they can swim very long distances without getting tired not all of us oh no look hey then we have an injured tuna I need your attention hello captain , on the way I am weight I am a doctor and I help any sea creature that is injured or sick I don't have time I have to keep swimming no matter what happens no then what is your name Tina Tina the tuna and if it weren't for this terrible hook eye that looks like painful you better come with us Tina, I'll fix you up in no time, okay, but this better be quick.

I gotta catch up on my school, stay calm 'cause you need that hose, we're almost got it running buddy, this is taking too long, put me back in the ocean, doc, don't worry Tina, it's all good, poof in the tuna, we have to swim all the time to be able to breathe, so we. I need to keep the water flowing over Tina's gills, you know, he'll keep the water flowing over my gills by swimming, throw me back into the ocean and that's it, good job, let's get started, pliers, now I need everyone to stay perfectly still and completely silent while I act. an emergency hook ectomy ectomy I don't like the sound of that, it's going to hurt, no it's not going to hurt at all, in fact, it's over, it's dark, but it's lip balm to make it feel better, that hook was doing that it was so difficult. eat, I had no energy to keep up and let me tell you it takes a lot of energy to swim across the entire ocean hmm Barnacles to tune in, we have a hungry guest who needs an extra large batch of tulip fish crackers . in front of you, captain, these are delicious, you already returned me to the ocean, doctor, now, you are not ready for that, I have to be ready, I have to catch up and get to the Mediterranean before the egg-laying season ends , so you are a little late, how bad could it be worse than you think?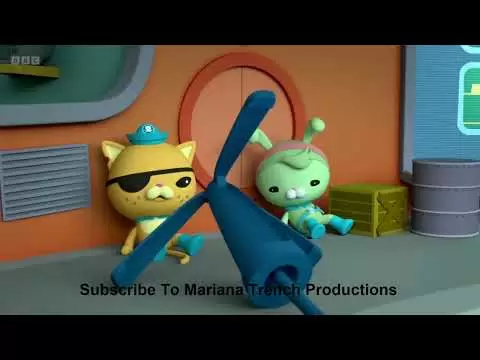 More Interesting Facts About,
octonauts the blue fin tuna series 5 episode 1 english full episode new...
The near-Atlantic bluefin tuna is in danger of extinction. A long time ago there were a lot of tuna in the ocean, but due to overfishing, there are less tuna every year. Is right. Now I barely escaped all the tuners. The egg could make a big difference in increasing the amount of tuna in the ocean, so we have to get Tina to the Mediterranean in time to lay her eggs with the rest of the tuna. Sound the Octo II alert. Captain Octonauts to headquarters. Optionals that we need. Taking Tina the tuna back to her school is already a long way off and we're moving fast, but if we hurry, I think we can catch up.

This looks like a job for that Gap B, not nearly. I modeled it. I am a sailfish, the best. fish in the sea that and it is big enough to accommodate two passengers and a patient the only problem is that it is not made, so we will have to use the octoport until the gup R is ready, come on almost Dashie, activate the launch and the manual steering that is already in it at this speed the Octopod will be hot in its fish tails in no time excellent there they are the school of tuna is in we are almost caught up that does not sound good the octopod was not built to go so fast for so long verbal motors overeaten Wait everyone, we are going to make a forced landing, the tunas are escaping, the cup is finished, it is finished, okay, blood, the batteries are not
full
y charged yet, well, We'll have to take our chances, hey, so bring Tina to the launch.

Bay Tina moored and cup bars ready to go. Open the octal hatch. I'll dry myself. How does it feel to be back in the ocean? This is not exactly what I had in mind. The school is too far away to reach. yours, the Kappa is the only thing fast enough, this will give you time to improve Tina, you're not 100 yet, okay doctor, if you say so, let's see what this new cup can do. Yes, now this feels like tuna speed. How is your roof? Cap, very good, Twig, I've never been on a faster boat, but it uses a lot of energy.
Remember Cap, keep an eye on the battery. Roger, that setting at this speed, we should catch up with the tuna before the battery runs out, oh look where you are. let's go celebrity fins hold on tight don't be nervous Tina nervous are you kidding me this is great there's a school we're closing I'm giving it everything she's got the battery's dead how about some tuna energy Tina in there? Were we worried? No time, no time to worry Terry, but we could really use a tuna leg. We would be happy to tow you. Tina's Grappling Hook Throw.
Now here we are, the Mediterranean Sea, you did it. Tina, thanks Doc, wait for me. I have laid my eggs. I would never have reached the Mediterranean without you. Oh, we're happy there are a few more tuna in the sea. Oh, hello, my teams. Octonauts, you did well. The engine still sounds a little weird, but we. I wanted to make sure everything went well. The perfect moment. I think our tired tuna friends would really enjoy some of the tulip fish crackers. Turnips long before you, captain, that means fish crackers for everyone. Do you think girl B is faster? race between the guppies and yeah, the shiny new Gap R, huh, you're on hey, wait, wait
If you have any copyright issue, please Contact