Joe Biden gives speech in Northern Ireland to mark 25 years of Good Friday Agreement - BBC News
Apr 13, 2023
I have received it is such an honor to be here I just told Gabrielle that when she is the leading public figure in this country and I run I promise you won't say Joe you're out said Joe Biden remember remember me okay okay . um Chancellor Davidson Vice Chancellor Bartholomew thank you for having us today and this beautiful Ulster University campus I came here on 91 in this neighborhood and you couldn't have a glass building like this here in this neighborhood I don't think I would I don't think I would have held up very ok but things are changing Mr Black Mayor and Secretary of State for Northern Ireland Eden Harris thank you for the welcome to Belfast and Mr President and leaders of Northern Ireland's five main political parties.

I had the honor of welcoming you. the White House a few weeks ago and it's wonderful to see you all again today and Ambassador Hartley, thank you for your excellent job leading our UK mission. Ambassador Hartley is an old friend and former British Ambassador to the United Kingdom. United States, that Ambassador's house and the embassy are along the fence of the vice president's residence in which I lived for eight
years
and the vice president and I because I became friends with the Ambassador and his last trip back home before After he returned to Washington to serve out the last months of his term, he told me he was going to bring something for me, so I didn't know what he had in mind, but when he returned we had him at the house where he and I spent some time together. his wife and me and my wife and uh he brought a book with a picture of the front of the book A A and he had just reprinted the book of a somewhat stout British captain in his quarters with a big bulldog sitting next to him and his name was Captain George Biden because he used to always joke with me and say you know Biden English you speak Irish Bites English and he told me he came back and had Lord's Admiralty verification of the true story of Scott and my great great 1840s I think 1842 could have been 1828 I can't remember it being one of those two dates I had written the rules mutiny rules for the british navy I said well at least that part is consistent reverend Mutiny but anyway he always teased me when he said that you knew to talk about it and say yes you talk about the irish he said to your english church remember then i found out my sister and i found out the name Robin to Robinette my half.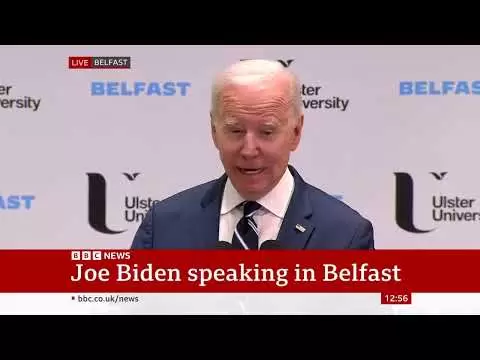 More Interesting Facts About,
joe biden gives speech in northern ireland to mark 25 years of good friday agreement bbc news...
My name is Robinette. I thought all those
years
were French, they must have been Huguenots because they came to Britain in the 1700s somewhere along the way and they're all from Nottingham so I don't know what else is going on here. come back is confusing and anyway General Council Iran Iran and Envoy Special Envoy Joe Kennedy thank you for his efforts to continue to deepen and strengthen ties between Northern Ireland and the United States. argue inspiration the peace dividend is all around us and this very campus is situated at an intersection where conflict and bloodshed once had a terrible influence the idea as i said of having a glass building here when i was here in 91 was highly unlikely where it was unarmed once the cable cut through the town, today we find the Cathedral a Cathedral of Learning built of glass and let the light shine in and out it only has a deep impact for someone who has returned to see it, you know it's incredible Testimony to the power and possibilities for peace 25 years ago this week the historic Belfast Good Friday
agreement
was signed and it wasn't easy.

I was a United States Senator at the time, and I worked very closely with my
good
friend George Mitchell, who will be here, I believe. in a couple of days and there were no guarantees that the
agreement
on paper would have guarantees that it would be able to deliver the progress that we celebrate today it just took long, hard years of work to get to this place it took people willing to come together from
good
faith and to take a bold risk for future leaders and for peace like John Hume and David Trimble and David Irvine and uh and Monica McWilliams and Mary Robinson etc. were all the people I knew back then and I needed people from all over . from all over Northern Ireland who made the decision to work for a brighter and shared future at that moment seemed so distant in part seemed so distant first at The Ballot Box an everyday sense the acts of seeing each other through the lens of a common La humanity, which again, when I first came here as a young senator, seemed unrealistic, took pioneering women in every community and party who said enough and demanded change, as well as a seat at the negotiating table, even through from Northern Ireland. women's coalition and it took a determined effort from my good friend, someone who embodies the country's commitment to all people, all people in this region, Senator George Mitchell and, as you know, his time as Special Envoy for Northern Ireland it's one of the great examples in history of the right person for the right job at the right time in my opinion I think sometimes especially when the distance of history we forget how hard earned how amazing that piece was in the moment it changed political gravity in our world literally changed political gravity in 1998 it was the longest running conflict in europe since the end of world war 2 thousands of families have been affected by the problems the losses are real the pain was personal I don't need to tell many people in this audience every single person killed in the troubles left an empty chair at the dining room table and the hole in the heart that was never filled for those who lost their peace was not inevitable we can never forget that there was nothing inevitable about it, as George Mitchell used to say that negotiations had quote 700 days of failure and one day of success 700 days of failure and one day of success but they went ahead because George and everyone else never stopped believing that success was possible and I want you all to know especially the young people in the audience today and don't jump right why do you see that all the way up there?

If you have any copyright issue, please Contact