Jess Phillips reads out names of women killed in UK in the last year
Jul 03, 2023
here is the list of the Count of Dead Women in the Femicide Census of Murdered Women where the main suspect or substantive murderer is a man since this time
last
year
sabita thanwani Yasmin begum shatira Bibi Sherry Bruce Helen Laurie Emma Bailey Ramona Stoya Alison Nelson Susan France Katie Kenyon Buddha Jones in ayat begum dolet Hill Tanisha afari akufa Samantha Drummond Diana gabalin Amy Cannon Amanda Michaela Shannon Stanley Lorraine Cullen Karen Wheeler Lisa Fraser Kawa an anonymous woman Julie yoel Antonella castavaldir Kerry Owen Sarah Ali Jennifer Andrews another anonymous woman Margaret a noon sukantala Francis Sally Turner Elena Wendy Morris Abby Fisher Margaret Barnes heiner Bashir Samantha Murphy Madison wrote Lauren Howe Becky Rhys Hughes Maori Doherty Kathleen John Helen Barlow Michaela Tyler Eleanor O'Brien Ashley Dale Karen Dempsey Wendy buckney Morgan Lizzie McCann Margaret Griffiths Susan Moore Katie Hermes irimia Jacqueline Forrest Patricia bitters harleen core samprit Gandhi Holly Thompson Roost Stone Houghton jillunash Jill Barclay Diana daftar Hillary round Angie White Yolanda Saldana Feliz Deborah gumbrella Caroline adeola Keisha Kristen dulu Emma Potter Alexis Karen Claire Armstrong Jacqueline Rutter Lorraine Mills fatimata hydara droudability Mary Andrews Michelle Hansen Maureen gitto Cynthia Turner Andrew assock ailish Walsh Natalie McNally Sabrina Cooper Stacy Warnock Francesca di deal Courtney Bourne L Edwards Stephanie Hansen Gabriella rude Beatrice Corey Jacqueline Kerr Holly Newton Ann Woodbridge Emma Patterson Valentina cosma Erica Parsons Lorna England Edna Berry Daryl Buchanan Eliza BB Sarah breely Sarah albone Sandra Giraldo Charlotte Wilcock Jane Collinson and Helen Harrison, whose
names
had to be written when I entered this chamber every
year
.

Final name this year. We also remember gay Brianna, a young woman brutally murdered, where a young woman and a man have been charged. The youngest on the list was 15 years old. Holly Newton, 92 years old, and the oldest was 92 years old, um Woodbridge. I also want to mention Joanna Simpson, who was murdered before the tradition of reading this list began; However, her killer, who spent days, if not weeks, digging her grave to bury her, was found not guilty of murder, but instead of manslaughter, her family is with us today and I joined them in their campaign to prevent her release from prison just 13 years after his brutal murder.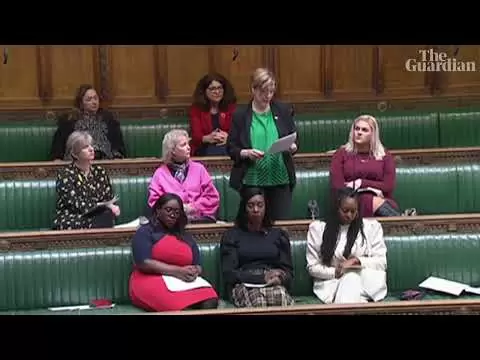 More Interesting Facts About,
jess phillips reads out names of women killed in uk in the last year...
I also want to mention the
women
who are never named on this list: There are
women
who suffer terrible domestic abuse and sexual violence like Bianca Tom Thomas, who fell from a tower block window after years of domestic abuse. There are many women who never appear on this list because no one is charged with their murder. yes, I have read hundreds of investigative reports and reviews of domestic homicides over the years, they all push for lessons to be learned, tell us next time will be different, it never is. Just this week I spoke to a woman whose perpetrator turned up at her home while on bail for trying to attack her with a gun a call to the police left her waiting seven days for a response firmicide is not currently mentioned in the domestic violence strategy this is not right I urge the government to hurry up and release the long overdue sentence domestic homicide review there is no reason why we should continue to hope that all these women have died in the time we were promised this revision

If you have any copyright issue, please Contact