Intensive Care Nurse Describes The Horror of Working on the Front Line | Good Morning Britain
May 02, 2020
Johanne you have been a
nurse
for ten years you are in a small trust 15
intensive
care
beds you have kids and how was the weekend how are you dealing with what you are seeing so i worked two long shifts saturday and sunday and the best way i can describe it its just unprecedented just horrible we are so busy and exhausted i am absolutely gutted today this is my day off and it is nothing like we have seen before tell us all tell us what is going on there is every single one person in your unit someone suffering from coronavirus right now I would say 99% positive for coronavirus yes jo-ann one of the hardest things for all the doctors on the nursing staff yes is that usually when people are seriously ill you can see relatives you can see their loved ones there is a kind of intimacy in that relationship as people face life or death here the brunt part such from this it seems that apart from the people who really live or die is the lack of any intimacy and this poor boy you know is a man, he was 13 years old and he couldn't even be buried with anyone from his family, he had to die alone and we broke our hearts and this must be happening all over the country um yeah sorry um yeah I mean. the hardest part of the job is taking
care
of people who are immensely ill critical care
intensive
care is where you come from where you are immensely ill and our relationship with family members is very close because most of our patients are intubated so we had no feedback from them so all we do is with family members and right now it's all over the phone and it's made even worse by the fact that they were wearing the masks that they know I'm happy to do okay it's the sacrifice we make a lot but when you're trying to convey emotions and someday i speak and you have a muffled voice and you're trying to scream loud you can you can and you can't give them the verbal cues you can't read their verbal cues and just listen for people on the phone crying is just heartbreaking , I can't describe it any other way than that and Joanne, you're not only there as a
nurse
, but also as a representative of the family, yes, because they cannot be at the bedside of their loved ones. one.

I mean it's an extra responsibility and burden for you, isn't it? Yeah I mean the relatives will tell you please can you pass a message like I said I love you and please get well soon we want your home and stuff? It's just heartbreaking I can't think of another word to describe it I think I cried about five times at work yesterday because I feel so desperate for the relatives I feel so desperate for them I had a weve weve I had a personal experience of this you know what one of our co-presenters, Kate Garraway, her husband Derek, is very ill in a London hospital and so I've been talking to her and him, you know she's in the same position as a lot of other people, but one of the problems is that you are all so busy that no one can to pass the time that they would like to inform the people who cannot go to the hospital that they feel completely helpless at home and in all our thoughts obviously with Kate and Derek and the family what what do we bring dr.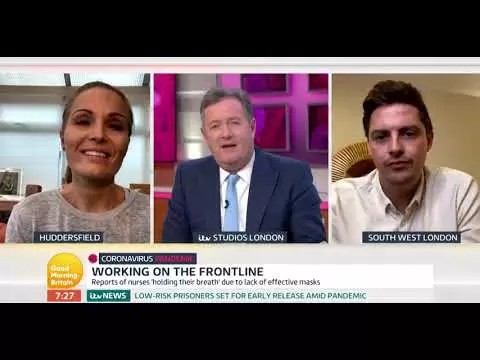 More Interesting Facts About,
intensive care nurse describes the horror of working on the front line good morning britain...
Alex and it's been described as a war zone in a busy hospital in Lewisham in South London, would you describe it as that
good
morning
tool and yes it's so busy now and once when you go to work? In many ways I think they are preparing for battle, I think emotionally and in some ways physically as well. we are willing to do our best for everyone but they are seeing people dying from corona virus and that is very very difficult and the muffled echo said there regarding family and we can't let that patient see his family even if they're really feeling bad in a unit that is very difficult because you know it's our natural instinct to want to come for the family, to come for the patient and to make those situations, as you know, as comfortable as possible that we can't do. that really on the road we want it is heartbreaking dr.

Alex um John says that 99% of those currently on his wards are coronavirus patients. I mean, what are you watching on A&E and are you worried about people staying away from Annie who might need to come over for other reasons? well i think the hospital did not do fantastically for managers two consultants and down we split the department in two so we have the green apartment in a red parts apartment so in coronavirus or suspected ekron virus cases versus other unrelated health conditions and of course we're still seeing people having heart attacks, strokes, other serious medical issues that we need to address, we also have this additional cohort of co2 patients coming in with suspected coronavirus so we we are getting busier and the pressure is increasing I would say we are coping very well at the moment I think the system we have created in the hospital has simplified and seen patients as quickly as possible and real Very effective but yes, we're seeing a huge number of cases, I mean, in an hour, I think we saw between four and five cases of blue light coronavirus the Last week, which is what you know, the sickest patients essentially arrive by ambulance and that's a lot. of pressure because keep in mind that those who are admitted more and may need to be intubated, which requires a lot of input from different specialties and a lot of care and attention, so yeah, it's really difficult.

I think you're worried about how worried you are, Alex. about your own personal safety because now you're reading like we're all about people in the
front
line
health service dying midwives doctors nurses this is happening I think anyone who says they're not worried about getting coronavirus is not being fully open because by Of course, we are concerned that the vast majority of the young and fit will be mild to moderately ill, but that is not a guarantee, as we have seen in recent days with some of my peers. Anyone you know passing away in the tragic loss of young John, who is 23 years old and being breastfed, it is not guaranteed that you are going to have mild to moderate illness and we know you know throughout this fight, this battle that we are.

We're probably going to lose more colleagues, which is scary, it's scary, but we know we have a job to do where we train ourselves as doctors, nurses, physical therapists, patient therapists, etc., because we want to help people who want to contribute our grain of sand. and times like this and we're doing our best but it's really important i would say it's absolutely heartbreaking when you see people not following the instructions that the vast majority of people follow but it's the only word you can describe heartbreaking I stopped by Clapham Common the other day to work on a mental preparation for what we would see on A&E and I saw people you know lying down and sunbathing and if they knew the risks and could see through our eyes and see what we could. see and feel that we could experience on one knee they wouldn't joe and you're okay with that yeah if i could know everything alex just said and to me it's the same as we're seeing younger people who are normally very , very fit and they're getting beaten up and getting very sick obviously when they're nearing their worst and when you find out that NHS staff are dying it's like one of us, one of our family has dead and it really hits home it's like a punch in the chest because we go to work putting ourselves on the
front
line
s and when people flaunt the advice they're given and just walk out without a care it feels like it's a slap in the face and All we are. doing the hard work we're putting in and going above and beyond it's almost like we're telling them just so you don't care
If you have any copyright issue, please Contact